What is a Third Culture Kid?
"A third culture kid is a person who has spent a significant part of his or her developmental years outside their parents' culture. The third culture kid builds relationships to all the cultures, while not having full ownership in any. Although elements from each culture are assimilated into the third culture kid's life experience, the sense of belonging is in relationship to others of the same background, other TCKs."... (more)
---
Dr. Ann Baker Cottrell
---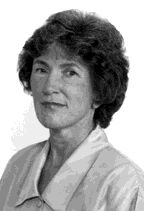 Dr. Ann Baker Cottrell grew up in Glencoe, Illinois. She received a BA in sociology and anthropology from Miami University in 1960, an MA in sociology/anthropology from Michigan State University in 1964 and Ph.D. in sociology from Michigan State in 1970. At Michigan State she studied with Drs. John and Ruth Hill Useem. She was a professor of sociology at San Diego State University where she taught since 1967, and retired in 2000. She is currently continuing a research project on adult third culture kids begun by Ruth and John Useem. She is also working with MSU alumni Kiki McCarthy (Ph.D. in 1972) and Sal Restivo (Ph.D. in 1974) on a festschrift in honor of the Useems.
Dr. Cottrell's academic interests have focused on globally mobile families and comparative research on women. Her interest in international activities and issues was sparked by a junior year abroad at the University of Edinburgh in Scotland. During graduate school she spent summers as a participant and leader on Experiment in International Living Programs in India and Switzerland and in Ivory Coast with Crossroads Africa. A Fulbright grant to India (1964-6) provided the opportunity to collect data for her dissertation on Indian-Western marriages. This was the first phase of a three-nation study of South Asian-Western families. The second study of South Asian-British couples was conducted in the Britain (1975-6) and the third on American-South Asian couples was conducted in the US the following year. Her interest in globally mobile families has continued with the study of Adult American Third Culture Kids she and Ruth Hill Useem are doing with the help of Dr. John Useem and Dr. Kathleen Jordan. In Italy (1982-3) she did research on Female re-entry students at the University of Trieste, comparing them with female re-entry students in the US.
At San Diego State University her international activity has included serving as the Assistant Director of the Office for International Programs. She was an early member of San Diego State University's chapter of Phi Beta Delta, International Scholars Honor Society, serving as its president, treasurer and board member. She was also a founding member of the Institute for International Security and Conflict Resolution (IISCOR) and regularly tought in the interdisciplinary ISCOR major. She has also chaired the Liberal Studies major for students planning to become elementary school teachers and she continues to be involved with that program.
---
(The following adresses might be out of date. If you have more current information, please add a comment on the bottom of this page or write to the webmaster: mairabay at tckid.com)
Email: acottrell@eternal.net
For additional information, visit her page of Research Interests, Publications & Presentations.
---
Join TCKWorld And Get Access To TCK Resources

News: We are currently renovating the site and changing its organization. Sign-up below below to be notified when TCKWorld is re-launched
and receive a newsletter with practical tips sent to your email every other day.
Recommended Links
TCK Resources
Top 10 best resources on Third culture kids, articles, books, groups, and more.
TCKid Forum
The most active TCK forum community.
TCK Academy Class
The first TCK class featuring Ruth Van Reken
TCK Research
An upcoming TCK research network.